Regular price
$ 18.00 USD
Regular price
Sale price
$ 18.00 USD
Unit price
per
Sale
Sold out
Share
Unique Classic Kitchen Towel, Functional Art for Your Kitchen! Design is entirely my own original artwork which is then scanned and printed in a high quality production process. Features include:
Super size 20" x 30". 100% high grade organic cotton. Beautifully mitered corners and thoughtful hanging loop. Natural and long lasting dyes so the colors do not fade after many washings. Color safe. Colors: Pear Green, Yellow, Poppy Orange, Sky Blue.

This particular watercolor is inspired by my love of the beautiful hills around me. I call it Among The Vines. Where I live used to be filled with vineyards but during the prohibition, they were removed. Now there are returning. They are often filled with gorgeous poppies, fields of mustard and accented by stunning oak trees. I love how the vineyards also define the landscape. Vineyards are popping up everywhere in the USA but on the west coast our climate is especially perfect for growing delicious grapes - which of course can then make delicious wine! 

This towel is 100% functional for drying dishes (or hands) but many of my customers press it and frame it so it could be wall art too. It can also be attached with a simple sleeve onto something like a bamboo rod and then hung to cover electrical boxes and other not so beautiful things.

These tea towels also make great bridal shower gifts, wedding favors, housewarming or hostess gifts, Mother's Day gifts, etc.
Check out the images for the towel and pot holder combos!

May your days feel inspired! 
View full details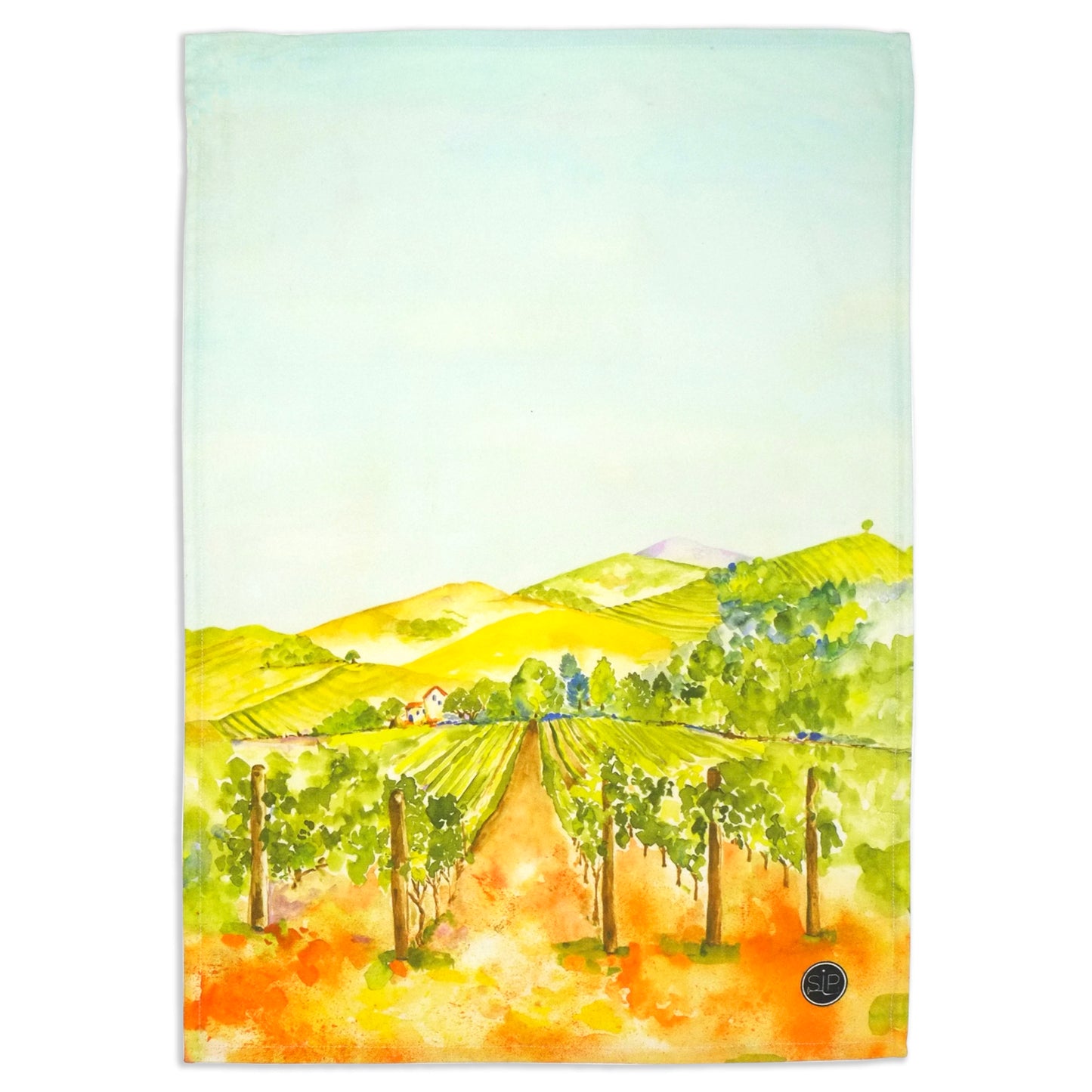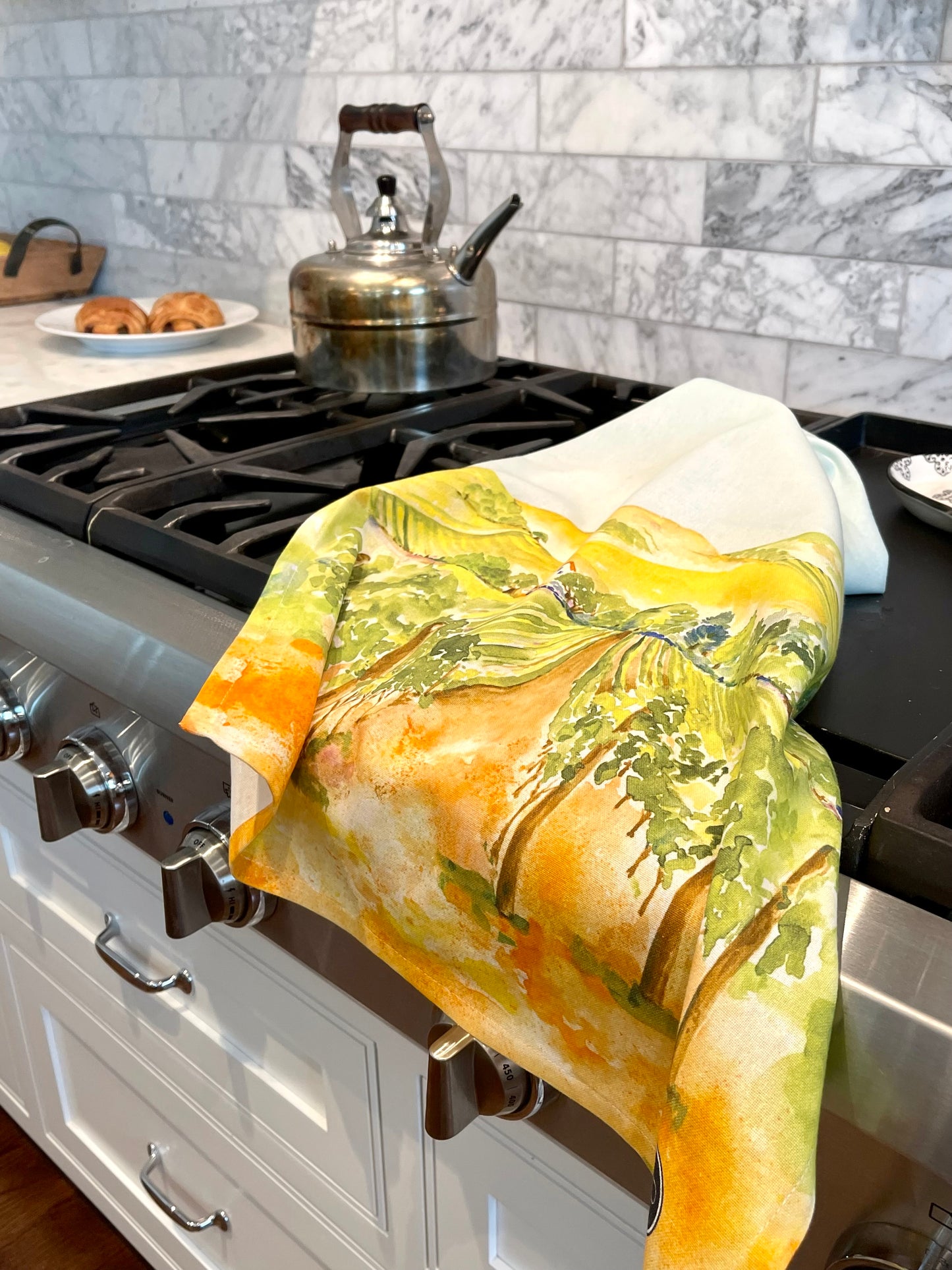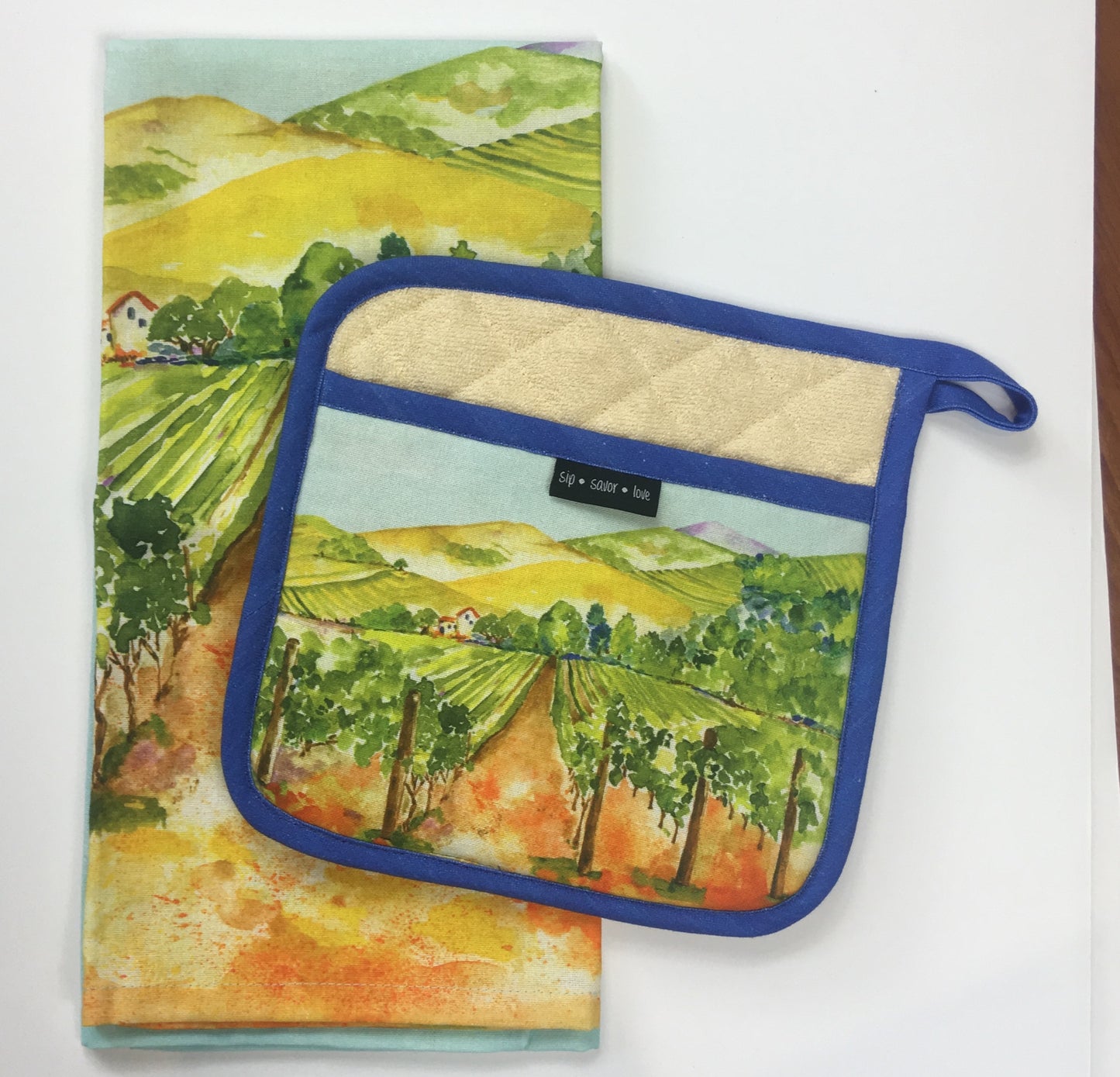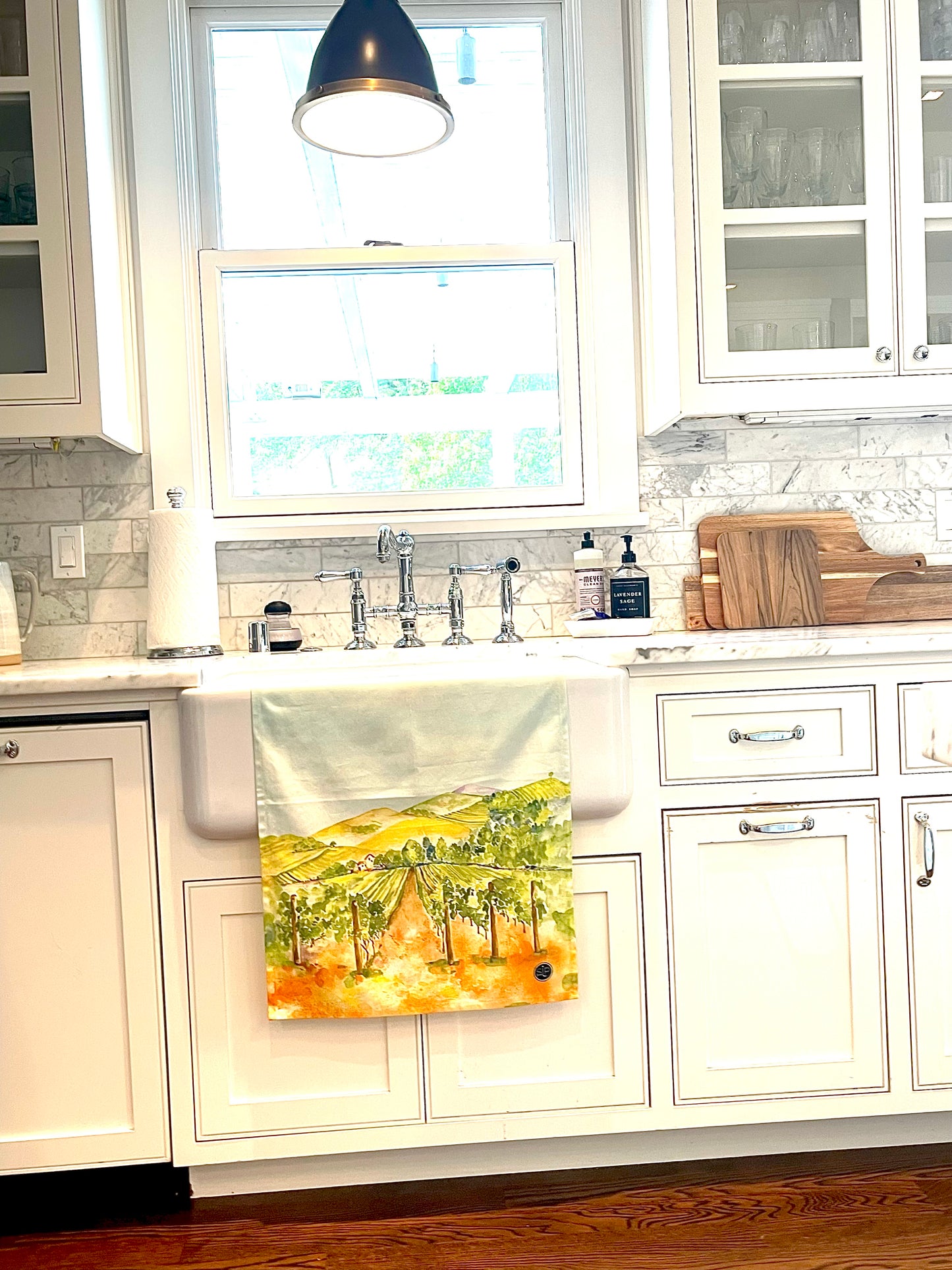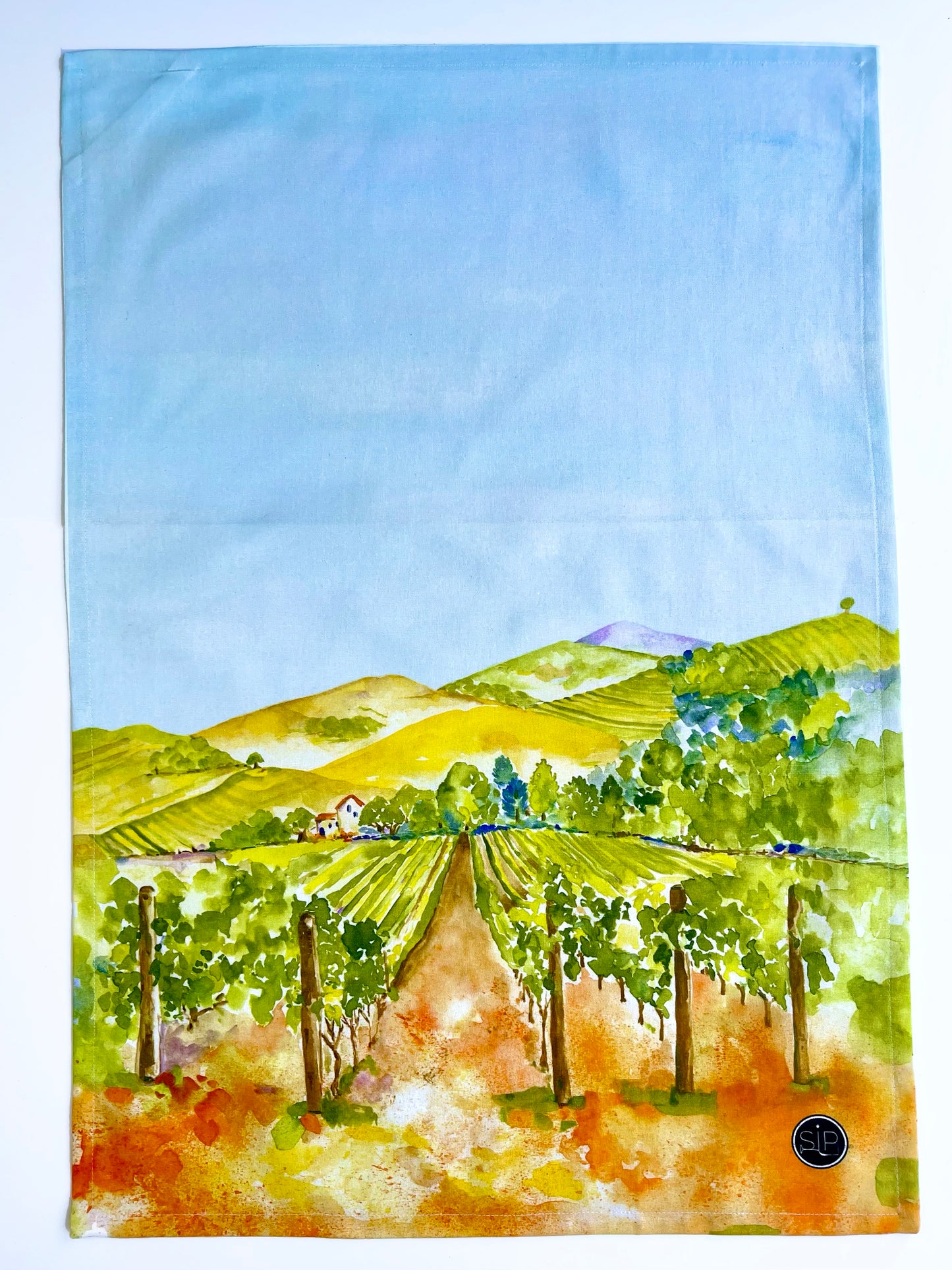 Shipping

Bulk shipping discounts offered through Shopify.

We do our best to use recycled or repurposed materials for our shipping.

Returns

As a small company, we don't offer returns or exchanges, but please contact us if you discover some rare defect!
Wholesale & custom orders available -- please contact us directly at (925) 899-1240
SIP SAVOR LOVE
SIP is a boutique gift company developed by Bay Area artist Julia Minasian. All art comes from her original watercolors and is then produced onto eco friendly materials. We use GOTS certified organic cotton with natural dyes, and botanical silks for our scarf collection.
All designs are inspired by the bounty of nature from the glorious grape to the tiny daisy. SIP is dedicated to promoting both a relaxed country feel and the art of savoring life fully in the moment. We are blessed to live near many of the California wine counties and consider our product to be 'wine country lifestyle inspired'! It's not just about the wine (which we love!) but about sipping life and cherishing all the beauty this amazing earth offers. It's a reminder to live in the moment!
We hope our functional 'art linens' will serve this secondary purpose - to act as a reminder to SIP SAVOR LOVE! Let's taste what life has to offer!!!
All our quality products are designed and produced with LOVE and plenty of fun color to make you smile!!!